Wat Phra Non in Phrae 'Pay respect to the Lord Buddha statue for your good fortune.'
Won't it be nice to spend a holiday by visting a nice, natural temple and pay respect to those architectures? Why don't you ask your friends to go with you too? It will be fun and relaxing.
Speaking of a nice, natural temple worthy of visting with your gang, surely you don't want to skip this one, Wat Phra Non in Phrae Province. This is such a nice temple.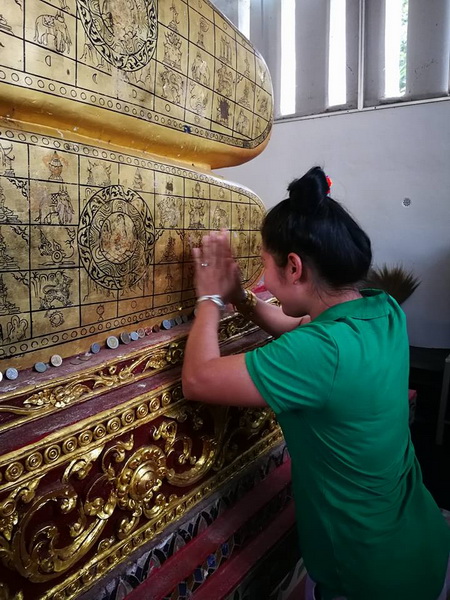 Wat Phra Non in Phrae is one of several temples in Thailand with Lord Buddha statues of lying-down manner. Normally, Lord Buddha statues are mostly in standing-up manner or sitting manner. Therefore, you must haven't seen the lying-down manner so often. So, this is your good opportunity.
The one at Wat Phra Non Phare is not less beautiful than any others. It's covered in golden color, looking so sparkling. You and your friend should go see and pay respect to this together. It's enormous, about 2 cubits long, and stunning. You may wish for something too.
Then you can continue your day with taking photos of other glorious architectures around the temples. There are plenty of them. These architectures should be seen through 3 types of arts, consisting of Chiangsaen, Sukhothai, and Ayutthaya. These are very rare. Don't let them slip from your memory. Just take photos of them.
Walking around the temple for sightseeing is a great idea, as the atmosphere of the temple is quite relaxing.
How to get there
Wat Phra Non is located in Nai Wiang District, Muang County. Look for Wat Luang on Phra Non Nua Road. Wat Phra Non should be located near the temple.
Nearby Places
Why will you want to miss this lovely traditional museum when it's so cloase to the temple? This is a Thai-European house, which has been existing for hundred years! Go and feast your eyes with a series of antiques.
Built in 1892, this imposing building, sporting a mixture of Thai and European architectural styles, was the home of the final Lord, or Chao Luang, of Phrae. The structure subsequently served as a governor's residence and is today a museum on local history.