Wat Phra That Intr Kwaen Phrae 'Admire the stunning architecture that resembles the one in Myanmar.'
What a perfect place to go with people you love! Here we're talking about Wat Phra That Intr Kwaen, which is not the one in Myanmar nor the one in Lamphun, but it's the one in Phrae.
Yes. There is Wat Phra That Intr Kwaen in Phrae Province too.
The best part of Phra That Intr Kwaen Phrae temple is the atmosphere, as it's located on mountaintop and surrounded with forests. If you have your friends or family members who're in a stressful situation, just take them to the temple to relax by inhaling the sweet air and have a sightseeing. Just walk carefully. Remember, this is a high area. You don't wan to trip over something and fall down.
The highlight of the temple, the golden rock with golden pagoda on, is located on the upper part of the temple. To get there, you must use the 200-metre stairway. But it's really worth it. The architecture is really beautiful. The rock looks it's about to fall from the cliff, but it's never probably will never. Take some photos of it as your memory.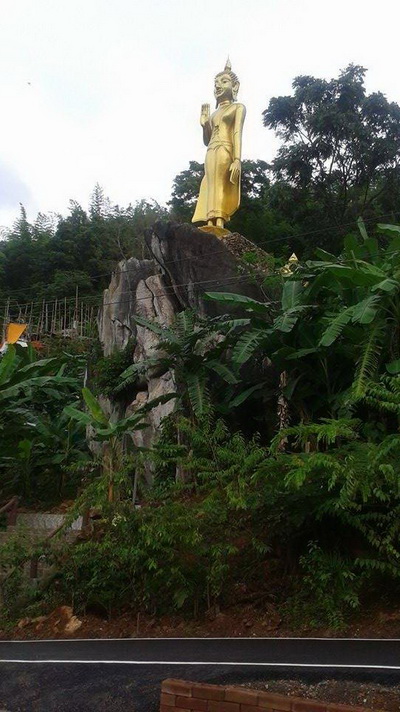 Then walk on your feet to see something else too, for examples, Naga-shaped handrails, a footprint of Lord Buddha which you should worship, the tablet neat the foot print etc.
Overall, the temple is perfect for taking a walk, taking photos, having a sightseeing, and paying respect to Lord Buddha. The atmosphere around there is truely clean and amazing. It's good for people of all ages, from kids to elderly people.
How to get there
Mahabhodiwongsachariyaram Centre is a Dhamma-practicing centre in Muang County and the location of this temple. You can travel there by using the Highway 101 and then 1101. Just follow the same way that leads you to Phra That Cho Hae. But, before you reach Phra That Cho Hae, you must turn left to Ban Tung Hong and then turn right. Then just follow the signs and you will reach the temple soon or you can contact us to provide the private tour package with the tour guide for people who need more information. Do worry for getting lost and more comfortable.
Nearby Places
Follow the feeling of the TV series 'Roi Mai' at this antique house. The house is made of brick, wood, and concrete. It appears in white and pale green. It's just so beautiful. Don't forget to get inside the house to see what in there. You're allowed to do so.
This place is only about 11 kilometres away from the temple. If you're a quiet person who loves to spend a lot of time in personal world, then you're specially welcomed to this place. This place is quiet and relaxing. It almost look like Chiangmai Grand Canyon, only it doesn't have water. Instead, it mostly consists of orange-brown stone rocks and cliff. There are some trees too. It's not noisy. You can spend your time for walking around, taking photos, and having a sightseeing.