Phu Chi Fa 'Feel the sweet air on the roof of Chiang Rai.'
Sometimes you should change your atmosphere, temporarily move to somewhere else instead of staying at the same location everyday. By doing so, you will gain a lot of new experience. 
And if you're looking for a new experience, something that you have never done before in your entire life, then you may be interested in having a sightseeing at Phu Chi Fa.
You may have heard of Phu Chi Fah before, knowing that it is a beautiful place, but you may have never been to it. Therefore, let's waste not time. Pack your luggages and book a plane ticket to Chiang Rai fast!
Phu Chi Fah is a national park and a mountain area in Toeng County, but a part of it is located just next to the border of Laos. However, this is a very beautiful tourist attraction, with about the height of 16,628 metres from the sea level and area of millions square metres. In fact, it should be called 'the roof of Chiang Rai', as its highest point sticks through the cloud.
The best way to enjoy your time there is to take a camera with you and fully charge your phone, in order to take a bunch of photos. The scenery is absolutely stunning. 
Most parts of the landscape of Phu Chi Fa are meadows and valleys. You can see all of these from a great distance.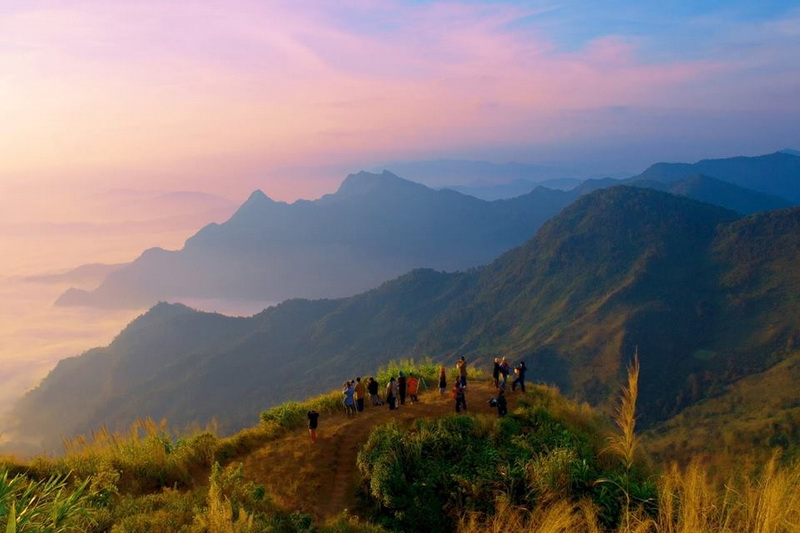 To be best, you should travel to Phu Chi Fa during winter, as there will be a lot of fog around you. It will be extremely beautiful. Just don't forget to dress in thick cloths, if you don't want to have a fever because of cold weather.
You can even spend some nights at Phu Chi Fa if you want to. In fact, camping there is the most suggeted thing. You may not be able to see the beauty of the whole area in just one day. Therefore, let's sleep there for at least two or three days.
There are shelters available for tourists, of course. The cheapest price is 400 Baht. It will be worthy of payment for sure. Just spend some nights, sleep in a little house in the middle of trees, get up early to see the fog and sunrise, take a walk around, inhale the sweet air into your lungs. Just imagine how wonderful will it be!
How to get there 
The first way to go is keep going along the road Chiang Rai-Toeng and Toeng-Ban Yee, until you find your way to the Highway No.1155. At the highway, just continue straight for about 42 kilometres. Then you will reach Phu Chi Fa.
The second way is to take the Highway 1021(Toeng-Chiangkam-Ban Huag). By using this route, you need to look for a junction that is located before Chiangkam. Turn right at the junction and continue straight for 30 kilometres. Finally, you will arrive at the national park.
When you arrive at Phu Chi Fa, you have to park your car in a determined parkling lot, then walk all the way up to the national park area.
You can also grab some bus at  Chiang Rai Old Transport Station instead, in case you don't have a car. Find any one that transfers you from Toeng County to Phu Chi Fa.
A van will also works, but only during winter. You can also take a van at Chiang Rai Transport Station, from 7:00-13:00 or you can contact travel agency in Chiang Mai or Chiang Rai to arrange the private tour package to help you to manage your time.
Nearby Places 
Only about 22 kilometres away from Phu Chi Fa, this is also a kind of national park and mountain area. The scenery there is absolutely fantastic. The area is about 1,635 metres higher than the sea level and inhabited by some ethnic groups like Chin Haw people, Hhmong people. Go there and learn about their lifestyles and cultures.
Doi Pha Mon Agricultural Centre
Just about 24 minuetes of travel, you will arrive at this interesting tourist attraction. Many species of cold weather flowers are planted there. You should go there during winter, as these flowers will be extremely beautiful. Just go around and take a lot of their photos. Or, you can spend some nights also, if you want to. There are some shelters available, but there aren't any restaurants.