Doi Tung Palace 'Tour the first palace of Princess Srinagarindra and admire colorful flowers in the beautiful garden.'
This time, another valuable tourist attraction will be introduced to you. This one is located in Chiang Rai, of course. It is a place that you will never forget. It is a place full of history, art, and impressive stories. 
This place is 'Doi Tung Palace'.
Doi Tung Palace was once the first palace of Princess Srinagarindra, the royal mother of King Bhumibol. She wanted to have a place that she could stay during her time of royal duties in Chiang Rai. Therefore she used her own money to establish the palace.
Nowadays, the palace is some kind of museum available for tourists. It looks quite unique and really beautiful. It was decorated with Lanna-Swiss Chalet style of art. That is a fusion style. As soon as you see it , you will see exactly how glorious it is. There are refined carvings all over the palace.
You can choose to tour the palace by yourself or with a tour guide. By taking a tour guide, you will be taken around for 20 minutes and tell you every inches of the necessary information.
Most every parts of the palace is accessible, even the royal bedroom. However, you have to be careful about the photography. You should turn your camera off when you're inside the palace, as the photography is not allowed. Therefore, you should follow the rule.
The best time to visit Doi Tung Palace is in the morning. The weather will be cool and relaxing. You will feel quite comfortable.
The admission fee is only 90 Baht for one person, except for an elderly person, which will be 45 baht.
Beside of the palace itself, you will want to visit Mae Fah Luang Garden too. This garden is just in front of the palace. It is 16,000 square metres. Just pay for 90 Baht and you will see the area full of colorful cold weather plants. These are rare plants, really. Just admire them, take their photos, but don't pick them or tease them.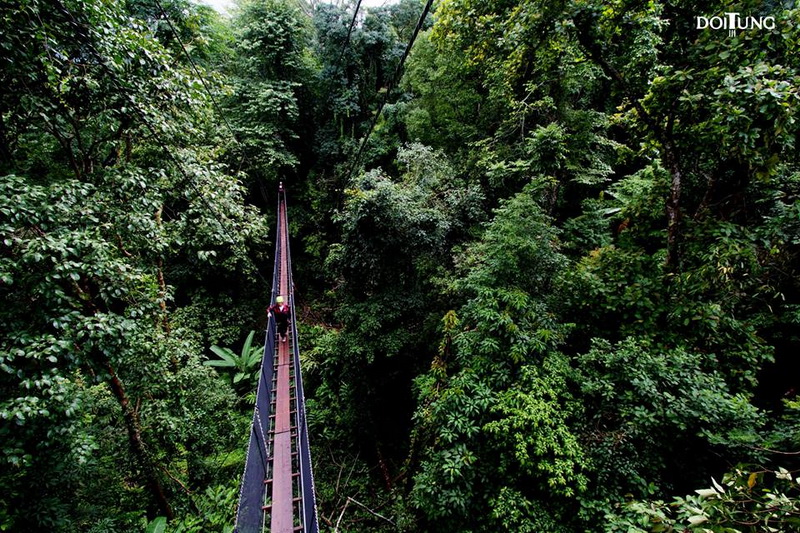 Next, there is a thing that is quite exciting and stunning in the garden. It is 'Doi Tung Tree Top Walk'. It has been open for several years. This is just like normal skywalks. You just walk on a bridge, which is metres higher than the ground level. You will find yourself above the trees and see tiny flowers in the garden below. That is an amazing scenery. Just pay 150 Baht for the admission fee and you will get this leisure feeling.
Also, don't forget 'The Tower of Inspiration', which is an exhibition hall. This hall mostly presents the stories of Mahidol royal family in philosophical way. There are 7 rooms. You should not miss a single room. In fact, you will have enough time to tour them all for sure, as the hall is available from 8:00-17:00. This is really worthy of 50 Baht as the admission fee.
Before you leave the palace, you may want ot shop some products from royal projects at the souvenir shop too. 
Lastly, if you have any question, you can call 053-767015-7, 05376 7003, or visit the website http://www.doitung.org .
How to get there 
Doi Tung Palace is located in Mae Fah Luang District, Mae Fah Luang County, Chiang Rai Province.
The first way to go there is to start your trip from the heart of Chiang Rai. Keep going straight along the Highway No.1(Chiang Rai-Mae Sai). Keep it like that for about 45 kilometres until you reach the 870th-871st kilometre, where you will find an intersection. Just turn left at that intersection and head for the direction of Doi Tung Loyal Palace.
The second way is to grab a minibus and pay the service fee in lump sum payment. That can be cheap or expensive, depending on the consideration of the driver.
Nearby Places 
The plantation is only about 23 kilometres away from the palace. There is no reason not to go. The plantation is millions square metres large. That is gigantic. You can walk around the tea planting lots or have some yummy desserts and cool drinks in the restaurant. The restaurant has a nice scenery, especially if you choose to sit on the terrace.
This one is so close. It is only 6.5 kilometres away from the palace. Let's see the two sparkling golden pagodas and Buddha's relics there. Beside of these, you can also admire other glorious architectures like Naga-shaped handrails, the white statue of Kruba Sri Wichai, the ubosot etc.