Wualai Saturday Walking Street 'Leave your working desk and head for the holiday marketplace'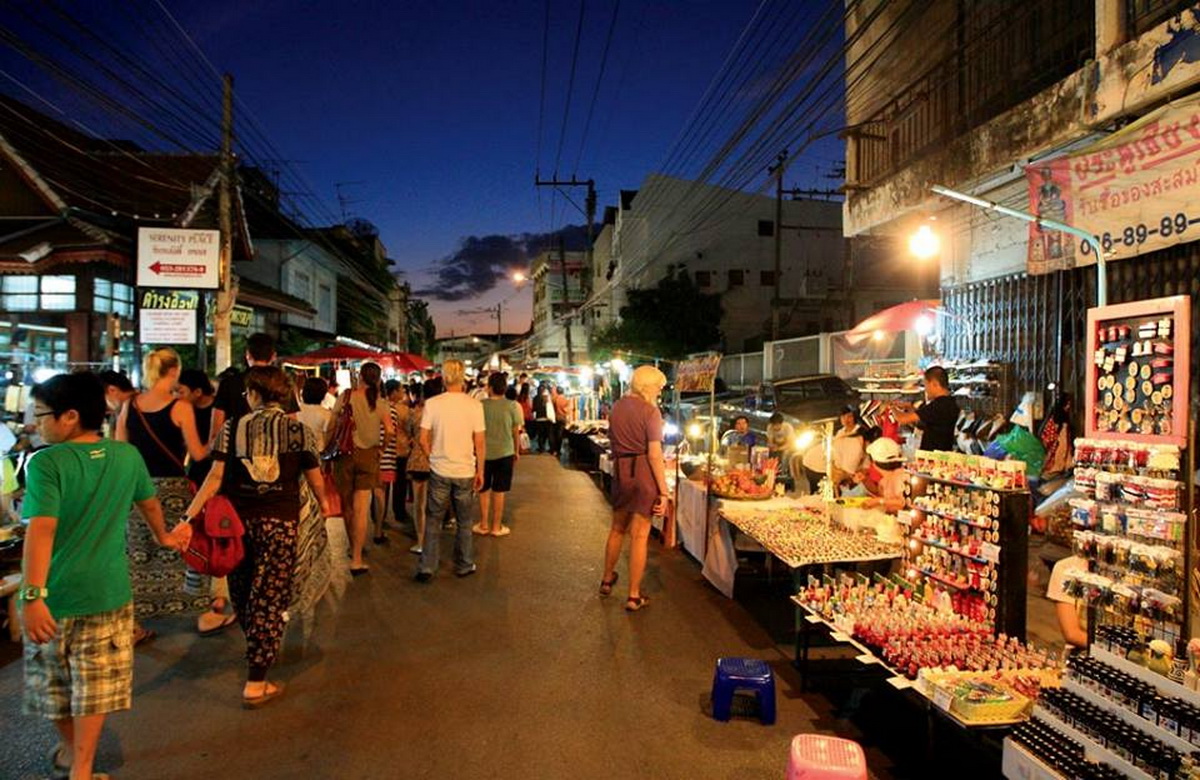 Have you though of anything for your Saturday holiday yet? If not yet, let's go to this place, 'Wualai Saturday Walking Street'! As you may or may not know, Chiang Mai is a historic town of Thailand. Most of tourist attractions are temple or something like that, but that's not the end of that! Beside of valuable historic tourist attractions, Chiang Mai is also well-known for walking streets. These streets are actually normal streets, but when the commercial time starts, the streets will be closed. No cars are allowed to go through, but there will be a bunch of vendor booths selling both foods and lots of other things instead. 
Wualai is one of these streets! It's available on Saturday only! So, if you feel so bored or have nothing to do, then just grab your wallet and rush to it!
Wualai Saturday Walking Street is among the most popular walking streets in Chiang Mai. The location is as same as the name, of course. The whole marketplace is the whole Wualai street, total 1.1 kilometre. It's not hard to find anyway. You just start your way from Chiangmai Gate, turning your back to it. Then walk across to the opposite side before turning to the right a little bit. From that point, you should find Wualai street full of many people.
The only problem for you is probably that you can't decide what to buy. Yeah, that's not strange, because there are many many vendor booths. You can walk around from the starting time to the closing time. There are foods, souvenirs, traditional handicrafts, toys, silverware, which are mostly from northern Thailand. You will find something like cute bags, OTOP foods, traditional wines, paper lamps and lots more. The prices are also affordable. So, you don't have to be nervous about ruining your wallet.
You can go to Wualai Saturday Walking Street every seasons. The commercial time starts from 17:00 to 22:00. But if you don't like to be among too many people, you should avoid going there at 19:00-20:00, because this is the time period that contains highest amount of tourists.
Same as other walking streets, sometimes there will be entertainment performances like playing music, singing, dancing or whatever. The performers are both adults and children. Some of the performers are students, which have good talent as much as adults. Tourists love to watch all of these. You should see with your eyes too and if you want to support the performers, you can put your money into their boxes or baskets.
Moreover, there are some booths opened for drawing service! If you want your realistic portrait, then don't forget to use the service. The price per one drawing is about 300 Baht.
Or if you get sore, you can use massage service there. The prices are charged by how long the massage is. For a half hour, it costs 80 Baht. For one whole hour, it costs 300 Baht.
How to get there
As it has been said, Wualai Walking Street is located on Wualai street, Chiang Mai.
There are two alternative methods for traveling there. The first method is to travel by a personal car. You just start your trip from Tipnet Road or Changlor Road. But be aware that you may not find a parking spot easily, due to many tourists on the opening time of Wualai Walking Street. 
The second method is to use any public vehicle. The recommended one is a red two-line truck, which costs about 30-40 Baht if you start your trip from Chiang Mai International Airport. Or you can take a B2 bus for 15 Baht or an air-conditioned bus for 20 Baht, starting from the airport too. Beside of the airport, you may start from Arcade Transport Station and take a red truck for about 50 Baht or a B2 bus for about 15 baht.
Nearby Places
This is a very popular place for tourists who want to grab something to eat, especially traditional foods, for instances, Sai-Ua(A kind of Thai sausage), Nam Prig Noom(A kind of chilli paste), Kab-Moo(Crispy fried pork skin) and lots more. If you're a one who enjoy eating, go fill your stomach there!
Another interesting marketplace, located right in the middle of Chiang Mai downtown. Both sides of the street, total 2-kilometre lenght, full of vendor booths. Beside, there are some hotels, restaurants and department stores too.