Kad Luang is one of the awesome market you need to see when visiting Chiang Mai
Kad Luang is a historical landmark, a long standing market, known for its variety of speciality Chiang Mai food and products.
Kad Luang or Warorot Market is a must visit if you love a try on local food. It is a 3-storey building with first floor selling food and goods while second and third floors selling inexpensive clothing and merchandise. All the ground floor is devoted to foodstuffs and produce. It is the main local market and is a busy place where you can see the real Chiang Mai. Clothing, handicrafts, beauty supplies, shoes and anything else you might be looking for is available on the second and third floors.
Kad Luang is one of the places where lots of Thai locals do their own shopping, so expect to find the same or similar goods that you see at other Markets also sold here but cheaper.
You could also spend hours walking around the outside surrounding areas of the market there all sorts of make-shift vendors, and lots of street action.
The quirky market excites visitors with its vibrant atmosphere and is often considered a place where you can still see the old and real Chiang Mai. Kad Luang is a multi-story shopping centre with dozens of traditional shops, selling mostly food (ground floor) and clothes (upper floors). What many people don't know is that a similar building, called Ton Lamyai, is just on the opposite of Kad Luang and features also plenty of vendors selling food and clothes. The open-air market just outside these buildings is home to hundreds of vendors, selling everything from food and clothes over ceramics to flowers and handicrafts. All three markets combined make up the largest daily market area in town.
Warorot Market Highlights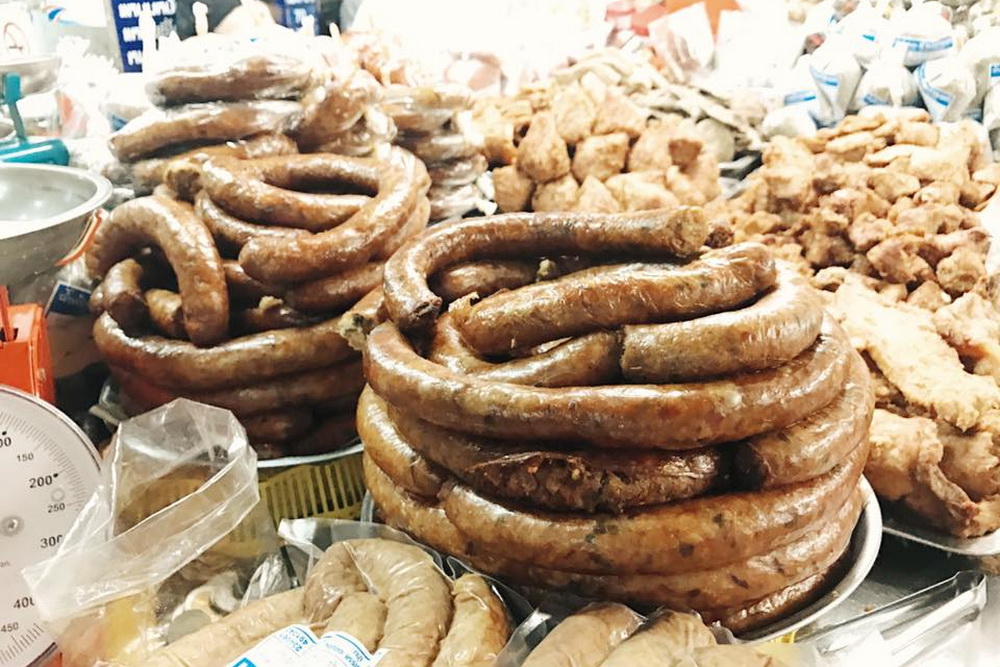 Sai Ua : This is one of the local foods that one must try if you are here in Warorot Market. It can be said as the busiest stall in this market, selling Chiang Mai's style or the "northern style" sausage which is made of minced pork and stuff with herbs and spices such as lemongrass, cilantro, shallot, black pepper, chilli paste and galangal (a type of ginger which is known as in Chinese; whereby its raw form has pretty stronger taste than normal ginger).
Nam Prik Noom : (the fibrous-liked wet mass chilli that made of green chillies, garlic, shallots and spices). We thought of trying it actually but it is selling by weighing too. Since we can't take too much, we let it go. Packets of Nam Prik Noom are available at some stalls too. Great as chilli dips for fresh vegetables as Ulam or Crispy Pork Rinds.
Kalamae is a type of candy/desserts, made of molasses, sticky rice and coconut milk. Quite similar to our Malaysian dessert – dodol; except that it is chewier and more compact than ours.  The sesame seed pandan flavour gummies are wrapped in red, green and black and also a special one which is in nipa palm leaves. The special one is very fragrant with a nice leafly scent.
Kaeb Moo : Pork rinds are deep fried into crispy bits, simply artery-cloying and sinful. But care it later, a bit of the crispy pork rinds will cheer you up. This is the addictive snack and can be found in most of the stalls.
Make your way back to Warorot's main second floor. Hidden behind the uniform shops on the western wall, you'll see a small staircase that leads out into the open air. This is the bridge way and your connection to the Lamyai building, the second of Warorot's undercover areas, which lies directly across the street.
Ton Lam Yai Market : market is famous for its flower market that is located along the Ping river towards Thapae Road opens 24 hours a day, 7 days a week. The most scenic moment to take a visit over is during the evenings where one gets to see delivery of fresh blooming flowers from local farms.
Ton Lamyai's market floor is comparable to Warorot's, but with more aromatics on display, including dried shrimp. Here, you can buy hill tribe Arabica coffee and locally grown tea leaves by the bag. Another shop sells fantastic homewares and utensils, including quirky wooden teacups, and another woven rice baskets. The northern end of the floor breaks off into a wet market (which must back right onto the Ping River), and a food court.
Hmong Market : Another small laneway opens up at the southwest corner of Warorot and takes you directly to the Hmong Market. Less permanent than Warorot and Lamyai, the Hmong Market mostly consists of transient tarpaulin-covered stalls and bins loaded with cloth. As a result, it's dimly lit and rather stuffy – but if you're at all interested in textiles, you'll brave the heat and spend some time in here rummaging. Antique notions, fabric swatches and Akha hats are arranged in beautiful stacks, and there are literally mountains of batik and embroidered skirts to look through, as well as quilts and antique fabric panels of all shapes and sizes (once used for different costume purposes), and rolls of both raw and indigo-coloured hemp fabric.
Nearby Places
Chiang Mai is a shoppers paradise, and nothing beats shopping for a bargain more than in in the famous Chiang Mai Night Bazaar. The Night Bazaar, on the east side of the old walled city, is approximately 1km long on Thanon Chang Khlan. The Night Bazaar is open every day of the year regardless of the weather from dusk till around midnight.
The Art in Paradise gallery is on two huge floors and consists of almost warehouse like spaces with gigantic murals painted on the walls and floors. The artists are Korean and like all good illusions the paintings are difficult to describe. Visitors are encouraged to get interactive by posing against or on the paintings. In fact, it is essential to do this in order appreciate the illusion that most of the art work creates. I don't know if it's art or science but the effect is quite incredible.
Wat Chedi Luang is a historic 15th-century chedi for housing important Buddhist relics. Partially ruined, it has an enigmatic ambiance and imposing presence in the historic center of the city. Appreciate the intricate designs and carvings that are typical of the Lanna style of the temples here. The highlight of the site is the jade replica of the Emerald Buddha sculpture. The reproduction was given as a gift to the Thai king in 1995. See the five elephant sculptures that make up the base of the southern façade of the stupa. The elephant on the far right is the only remaining original carving.
Wat Chai Mongkol is one of the oldest community monasteries in chiangmai. It was founded around 600 years ago, as the power and influence of the Lanna kingdom was emerging at the time of strong King Tilokkaraj. Shrines and artefacts were added by the various ethinic groups using the temple – Burmese, Laos.