Kad Luang is one of the awesome market you need to see when visiting Chiang Mai
Kad Luang is a historical landmark, a long standing market, known for its variety of speciality Chiang Mai food and products.
Kad Luang or Warorot Market is a must visit if you love a try on local food. It is a 3-storey building with first floor selling food and goods while second and third floors selling inexpensive clothing and merchandise. All the ground floor is devoted to foodstuffs and produce. It is the main local market and is a busy place where you can see the real Chiang Mai. Clothing, handicrafts, beauty supplies, shoes and anything else you might be looking for is available on the second and third floors.
Kad Luang is one of the places where lots of Thai locals do their own shopping, so expect to find the same or similar goods that you see at other Markets also sold here but cheaper.
You could also spend hours walking around the outside surrounding areas of the market there all sorts of make-shift vendors, and lots of street action.
The quirky market excites visitors with its vibrant atmosphere and is often considered a place where you can still see the old and real Chiang Mai. Kad Luang is a multi-story shopping centre with dozens of traditional shops, selling mostly food (ground floor) and clothes (upper floors). What many people don't know is that a similar building, called Ton Lamyai, is just on the opposite of Kad Luang and features also plenty of vendors selling food and clothes. The open-air market just outside these buildings is home to hundreds of vendors, selling everything from food and clothes over ceramics to flowers and handicrafts. All three markets combined make up the largest daily market area in town.
Warorot Market Highlights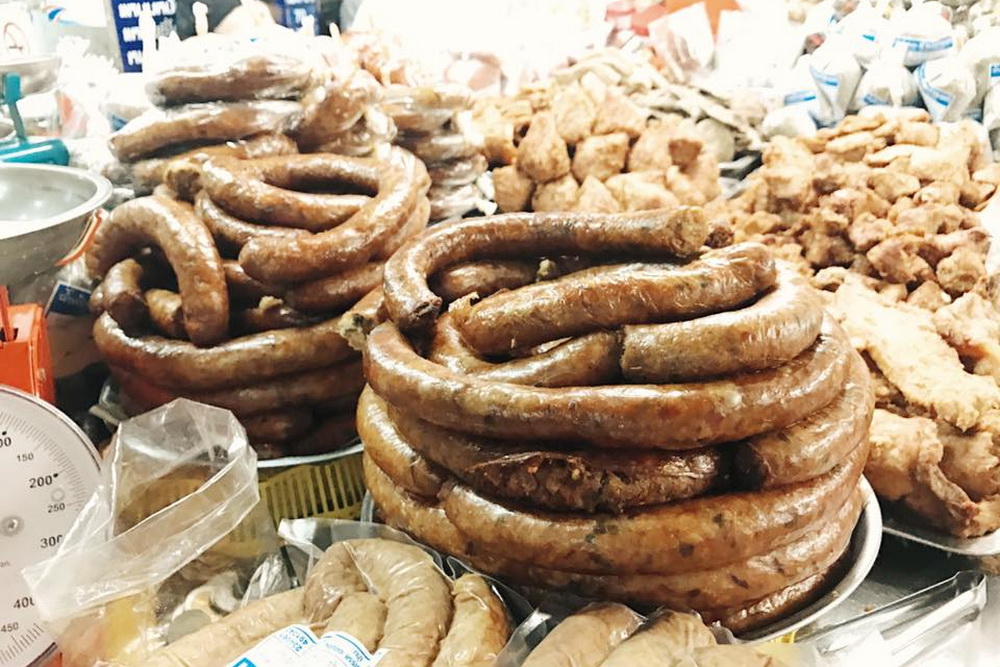 Sai Ua : This is one of the local foods that one must try if you are here in Warorot Market. It can be said as the busiest stall in this market, selling Chiang Mai's style or the "northern style" sausage which is made of minced pork and stuff with herbs and spices such as lemongrass, cilantro, shallot, black pepper, chilli paste and galangal (a type of ginger which is known as in Chinese; whereby its raw form has pretty stronger taste than normal ginger).