Wat Sri Suphan 'Admire the stunning and sparkling silver Ubosot.'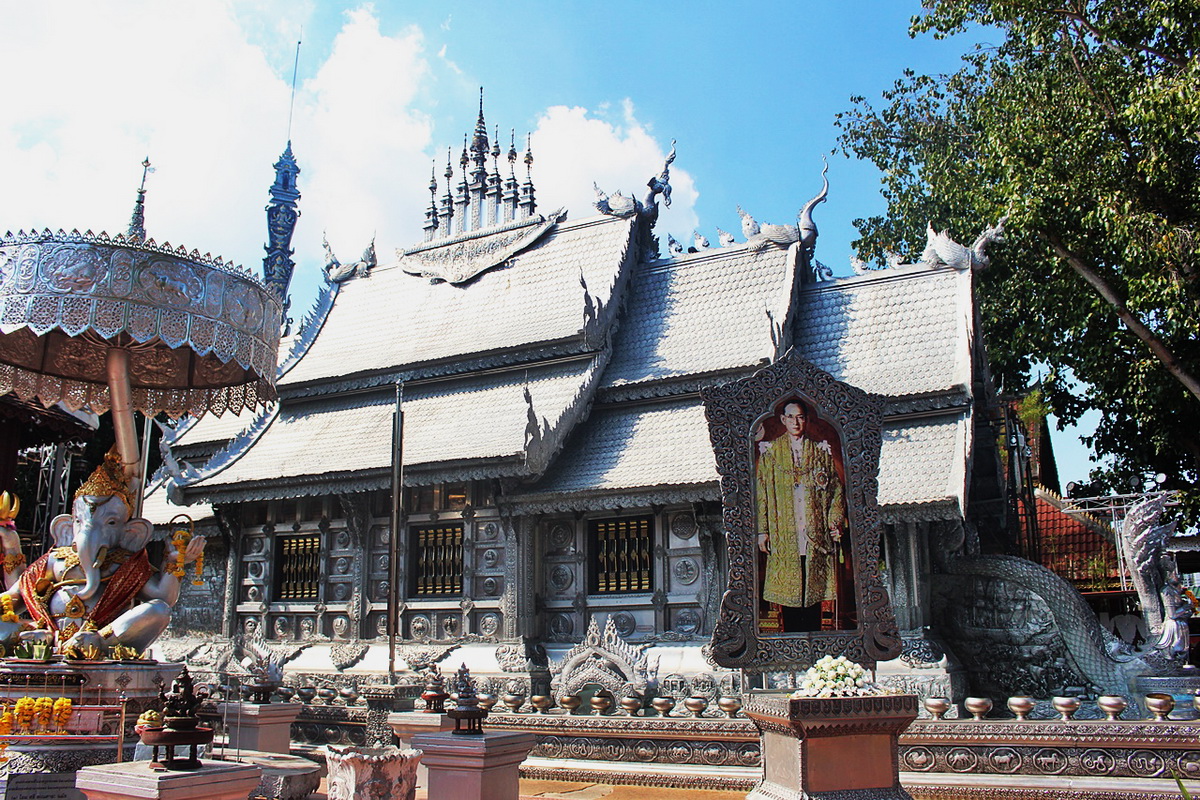 Going to a temple is not only about making merit, but also about admiring glorious traditional architectures. 
Each temple always has its own unique, same as this one, 'Wat Sri Suphan' in Chiang Mai, Thailand.
Wat Sri Suphan is another must-go temple in Chiang Mai, as it is one of the eldest temples of the province. It was built in the year 1500. Its former name is Wat Sri Suphan Aram, which was changed into Wat Sri Suphan. 
The atmosphere at Sri Suphan temple is quite natural and peaceful. There are lots of trees around. Lots of Thai and foreign tourists love to visit there.
Of course, there are many importants architectures and zones inside.
Ancient Thai Art Education Centre Sala Sib Mhoo Lanna Wat Sri Suphan and Silverware Handicraft&Ornament Training Centre : In case you want to learn how to create beautiful ornaments and decoration items, this is the zone you should go. You don't have to pay for anything. It's all free. But you can donate your money as a support, if you don't mind.
Sala Akhanthuka : This pavilion is in fact a massage parlour, which provides you ancient-style massage for your health, for and instance, foot massage. If you feel like you're getting sore, just go inside.
The Silver Ubosot : This is the highlight of the temple! The ubosot was built by the villagers, in order to preserve Buddhism and local intellect of silverware. The whole budget is more than 30 millions Baht! That's an inordinate amount of money, of course. If you see the architecture, you will never wonder why, because it looks so sparkling and luxury with silver. This is in fact the first silver ubosot of the world. Just go and admire it. You will see lots of carvings, including gorgeous silverwares, which are really difficult to be found.
Phra Buddha Patiharn : Also known as Pha Chao Ched Tue, this is the principle Lord Buddha's statue inside the ubosot. The statue looks so valuable with golden color. It has been being a story, saying that in the age of world war, Wat Sri Suphan was once the base of Japanese soldiers. The soldiers were attacked with a series of bullets. The bullets hit the foot of Phra Buddha Patiharn. You can see the mark as the evidence. Just notice it.
The Lanna-Style Vihara : This vihara was built somewhere around the year 1799. It was renovated with contemporary art, but still maintained with the original form. The architecture appears in red color and there are beautiful murals of the 12 zodiacs.
Phra Barom That : This is a Lanna-style chedi built by royal workers. It appears as a shape of round bell and overturned lotus. It has been renovated for so many times.
Sala Sib Mhoo Intellect Museum : This is a small but valuable museum. It is a good place for you to learn local intellect of art. Inside the museum, you will see exhibitions like utensils of small ornaments.
Now, if you wish to visit Wat Sri Suphan, then go. Don't hesitate. Get your camera ready for taking unforgettable photos. Just remember one thing, you must behave properly all the time. This is a religious place. You shouldn't talk to loud, drop trash on the ground, dress in sexy costumes, or express any impolite manner.
How to get there 
Wat Sri Suphan is located on Wualai Street, Muang County, Chiang Mai Province. It is not difficult to go there.
The first method is to hail a red truck and ask the driver to give you a ride there. The price is not fixed, but it depends on the consideration of the driver.
The second method is to drive your own car. Just start with turning into Wualai Street. Then keep going for about 600 metres until you see the sign saying 'Wat Sri Suphan' on your right hand. From that point, you turn right for another 50 metres and you will see the temple soon.
The third way for more comfortable, you can contact tour agency in Chiang Mai to arrange the car rental with driver for you.
Nearby Places 
Of course, you can't leave Wualai with out shopping at 'Waulai Walking Street' first! The street will be closed every Saturday evening. All vehicles are not allowed to pass. But vendors will set up their booths, just like a country fair, and tourists will walk around freely without having to worry that they will get hit by cars. Enjoy your time there! There are many foods and traditional merchandises on sale. You can go there after you finish touring the temple.
Chiang Mai Night Bazaar is one of the city's main night-time attractions, especially for families, and is the legacy of the original Yunnanese trading caravans that stop