Patara Elephant Farm Chiang Mai 'Lovely elephants in the middle of nature'
There are many elephant farms in Chiang Mai, which are all good for relaxing your mind. You know, being in the middle of lovely and smart animals just like them will make you feel better if you've been through stress. 
Elephants aren't just animals. If they have been trained properly, they can be friends of ours. You should see the image of tourists playing with elephants happily. If you see that, you may wish yourself a chance too.
That is the reason why you should visit Patara Elephant Farm. This is another good elephant farm in Chiang Mai, which you will not gain only entertainment , but also knowledge.
In fact, Patara Elephant Farm is not an ordinary elephant farm. It doesn't just consist of elephants for tourists to feed or play with, but also a place for breeding elephants and reserving their species. The authorities stated the purpose, telling that they want everyone to understand the deep value of every elephants, not just feel pity for them.
There are many activities for you to do at the farm. You can attend a lecture on the history of elephants, which will give you the knowledge of the elephants since the ages that they were used in battling scenes or foresting jobs. Or, you can notice the lifestyles of them, seeing how they eat, sleep or react. See how the authorities breed the elephants safely. Breeding is important, because elephant population is decreasing everyday, due to hunting and torturing. Therefore breeding can prevent their species from becoming extinct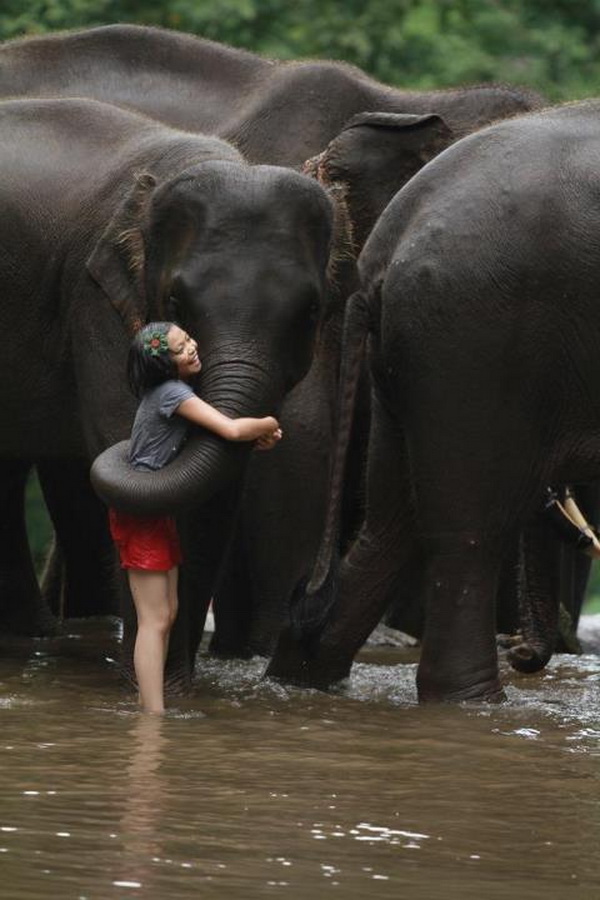 Moreover, you can get close to the elephants. You can change your clothes and wear a mahout costume instead, in order to make friends with them easier. Then you can feed them with grass or bananas. The authorities will teach you how to play with them properly, from getting to them to touching and petting them.
You can ride on the elephants' backs for sightseeing too, of course. You will have a good chance of seeing locals' lifestyles and full-fill your heart with beautiful natural scenery.
But, do you know what the best part is? The best part is that you can book a special program. What is this special program anyway? This special program is all about 'learning about elephants for one whole day'. Yeah, right! For one whole day. You aren't hearing it wrong! Begin with your morning, you will first learn about elephants, from history to basic cares. Then you will learn how to release them from their chains, how to get on them, how to get down from them, and, of course, how to communicate with them. That's not the end of that! You will also learn how to wash their bodies, how to take them for walking. You will have lunch with them. And, finally of the program, you will send them back to their barn and take photos with them. All of these will make you love elephants more. You will not regret your opportunity at all.
Remember one thing, you should dress properly if you go to the elephant farm, so that you can move and attend all activities conveniently. And, about photos taking, don't worry, because there will be authorities recording all actions with high-quality devices for you.
For further details, you can visit the website www.pataraelephantfarm.com or dial the number 081-992 2551, 081671 0958.
How to get there 
Patara Elephant Farm is located in Hang-Dong County, Chiang Mai. It's very easy to travel to. First, you need to start your trip from Chiang Mai downtown. Then keep going along the Highwat No.108, until you reach a junction with a sign telling you to turn right to Samoeng County. Just continue the same way and you will see the Highway No.1269. From that point, be patient and reach the 29th kilometre. Finally, you will see the entrance of the farm, which is on your right side.
Nearby Places 
Here are some other tourist attractions in Hang-Dong County.
Grand Canyon Chiang Mai is a suitable excursion destination for short decision makers. Only 17 kilometers south of the old town is this ever-growing, secret tip, also called "Hang Dong Grand Canyon". Sporty, active families or watery recreation seekers, everyone can enjoy a few hours of fun: swimming, jumping and drifting into one of the two parks "Grand Canyon Waterpark" or "Grand Canyon Hangdong Chiang Mai".
In Samoeng County, there isn't just only one strawberry garden. In fact, strawberry gardens in the area are countless. That's why it has been being called 'The Town of Strawberries' all along. You can tour them for a whole year.
Ob Khan National Park is one in every of our favourite native getaways. It's an incredible spot for a picnic, or just to cool off on a scorching and humid Chiangmai day.
For private adventure Chiang Mai horseback riding tours we provide in small groups into the fascinating mountain and jungle landscape of Chiang Mai, Thailand. First ride or experienced evener, you will enjoy your day.