Mae Wang National Park 'A heaven-like land for waterfall lovers'
If you're dreaming about seeing cool waterfalls around you, then there is a place that you shouldn't miss. Just get your clothes and camera ready. 
Let's find Mae Wang National Park in Chiang Mai. It's not just a beautiful national park, but it also consists of many many waterfalls. You will enjoy filling your heart with their cool drizzles. Good places to go if you want to avoid hot air.
Mae Wang National Park is located in the wood areas of many counties, Mae Wang Forest, Jom Thong Forest, and Mae Khan Forests. Its bordor is limited within Yang Kram District, Santisook District, Doi Lo District, Chuang Pao District, Ban Luang District etc. There is no wonder why the area is enormous. It is about 144 square kilometres. Its landscape appears as mountains, which are about 400-1,909 metres higher than the medium sea level. Doi Pha is the highest peak of all.
Moreover, Maewang National Park is the river source of 3 rivers: Mae Jam River, Mae Wang River, and Mae Tuen River. And this is the answer to the question 'Why there are so many waterfalls in the national park?'. Because the water sources there are so many and all in flawless state.
The waterfalls you can reach in Mae Wang National Park are…
Khun Puai Waterfall : A big waterfall with 3 stories and 45-metred height. Also, it is the river source of Mae Wang River.
Pla Duk Daeng Waterfall : A 1-storied waterfsll with 30-metred height.
Pong Noi Waterfall : A 3-storied waterfall with 35-metred height
Pong Samit Waterfall : To get to this one, walking on your feet is the only way.
Pha Mon Waterfall, Mae Puai Waterfall, Muang Ang Waterfall etc.
Don't hesitate to prepare a pair of shorts for swimming and a camera to take nice photos. Or you may have some snacks nearby. But don't ruin the area. Always keep the area clean. Don't drop trash on the ground or do something like that.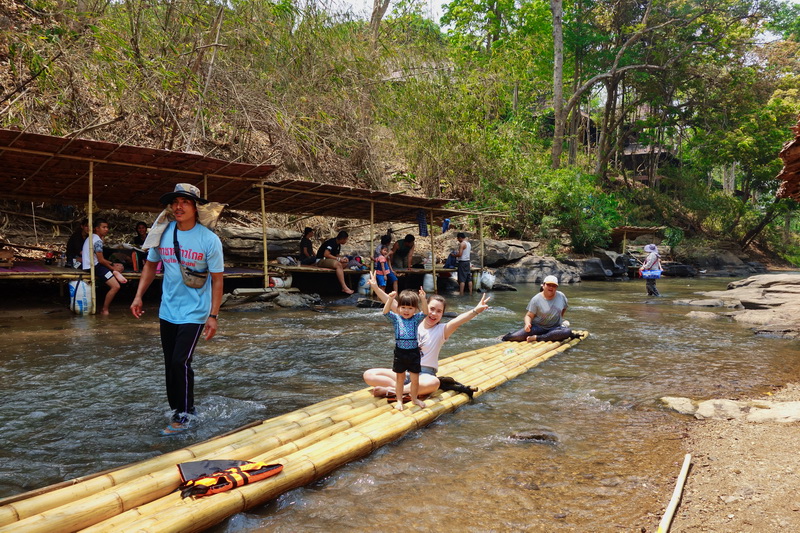 About the climate, there are total 3 seasons at Mae Wang National Park, due to the southwest monsoon. Summer starts from March to May. Rainy season starts from June to November. Winter starts from December to February. The average temperature is about 25 degree Celcius. However, during winter, the temperature will be somewhere around 15-17 degree Celcius, or sometimes it  will be dropped to 10-14. Get your jacket ready if you're planning to travel during winter.
Speaking of the scenery, Mae Wang National Park is beautiful as much as other national parks. There are many types of forests within the area, for instances, mixed forest, deciduous dipterocarp forest etc. Also, there are many interesting plants that you may have never seen before. Just feel free to explore the whole area. Beside, you will see many species of animals around too, birds, porcupines, monkeys, snakes, turtles, etc. Take their photos. Befriend them. But don't tease them or feed them.
In case you want to spend the nights, you should visit the website www.dnp.go.th, which is the website of Department of National Park. Find further details there.
Things to do in Mae Wang

Rafting along the Mae Wang River

: The Mae Wang is a long but not wide river with some isles and rocks amid the swift current. Degrees of difficulty are only 1-2 which is more suitable for bamboo rafting than the dinghy rafting. Its shady scenery will make you feel relaxed. A rafting trip on a bamboo raft takes about one hour. Two to four passengers can go on a raft with the steersman at the bow of the raft.
Trekking in Mae Wang : Formerly a rather off the beaten track destination for trekking, Mae Wang is now getting popular though not on the industrial scale of certain other areas; there are still some good hikes to be done and some very traditional villages to be visited.
Pha Chor Cliff is a natural phenomenon occurring when the Mae Ping changed its course several hundred years ago, resulting in the large and beautiful 30-metre-high layers of sediment.
Elephant Trekking : Popular tourist activities are trekking, rafting on bamboo rafts along the Mae Wang River and elephant trekking to be embraced in the verdant forests. An interesting activity when you are in Mae Wang County is elephant riding. Swaying on an elephant back slowly lumbering through the forests under a mahout's control is a kind of pleasant travelling. This activity is suitable for everybody. Riding on elephant back allows you to get close to nature like trekking but you will not get too tired due to walking.
How to get there 
To get there, it will be best if you follow the Highway No.108(Chiang Mai – Hod), driving to the south side for about 21 kilometres. Then turn right into Mae Wang County. Keep going along R.P.CH. Road No.12039 and 10240(Mae Win-Bo Kaew) for about 36 kilometres. Finally, you should find the headquarter of the national park.