Go Bamboo Rafting in Mae Wang, Chiang Mai 'Funnest and coolest ever!'
There are many activities that can prevent you from hot weather. You can go swimming, taking a bath, sitting relax in an air-conditioned room, eating ice cream or whatever, But, if you get tired of these, then how about trying something else instead? 
Don't want to do the same things anymore? Wanna touch a different atmosphere? What do you say if you have a chance of rafting on the nice, cool water at Mae Wang, Chiang Mai?
Surely, this will sound interesting for most of you. After feeling so exhausted about your work or study, it won't be bad at all to go to Mae Wang, sitting nearby the stream, dipping your feet into the water or even going rafting on it.
Mae Wang river is in the area of Mae Wang national park, and actually a tourism county in Chiang Mai. When you arrive, you will see that the area is surrounded with mountains, clear sky and clean waters. Most tourists love to go there in the middle of summer, of course, because the water at Mae Wang is cool all year round.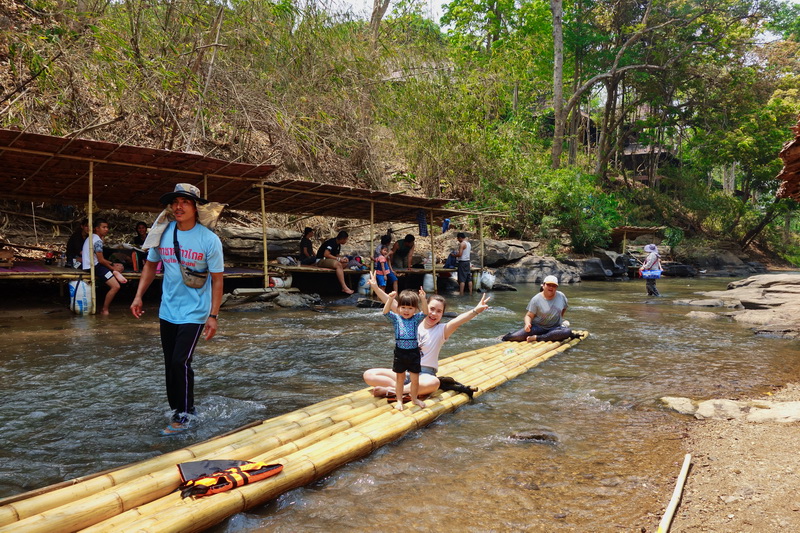 So, if you wish to go rafting, there are two kinds of rafting in Mae Wang. The first kind is to go with a tour guide. The second kind is to go all by yourself. You just can choose whatever you want. If it's your first time of going to Mae Wang and you don't know much about the area, you probably need a tour guide so you don't get lost. But, if you've been to Mae Wang before and know your ways around, you can just grab a raft and go on it with your friends and family.
How do the rafts in Mae Wang look? No, they're not rubber rafts like the ones used on the beaches or in swimmmng pools. No! These are bamboo raft! Yes, you heard it right! The bamboos connect to each other in ancient style. They're not thick or hard very much. Therefore, when you sit on one, you will get wet too. Moreover, you have to be very careful when you're in the middle of this activity. Don't stand and bounce when your raft moves, or it will turn upside down or become broken. However, it's safe to play with the rafts there, because the current is not harsh at all. The main purpose is to go around for sightseeing, noticing trees, water and animals, something like these. Rafting in Mae Wang is not an adventurous style. However, on some part of the stream, the water may flow a little bit harder than usual, so you have to be extra careful and try to avoid the rocks.
Both children and adults can go rafting. Feel free to. But, for young childrem, the guardians must take very good care of them.
In fact, going rafting isn't the only activity in Mae Wang, but there are also more, for instances, to the pavilions, to go riding the elephants. There will be signs written the directions to all of these, don't worry. Absolutely, you will enjoy everything. The whole neighbourhood is decorated naturally and leisurely. This is a good land to go if you need a long long vacation and separation of your busy life.
There are food booths and restaurants around the area. So, whenever you get hungry, just buy some. They're not too expensive. The prices start at about 20 or 30 Baht. Especially on Saturday and Sunday, there will be more food sold there.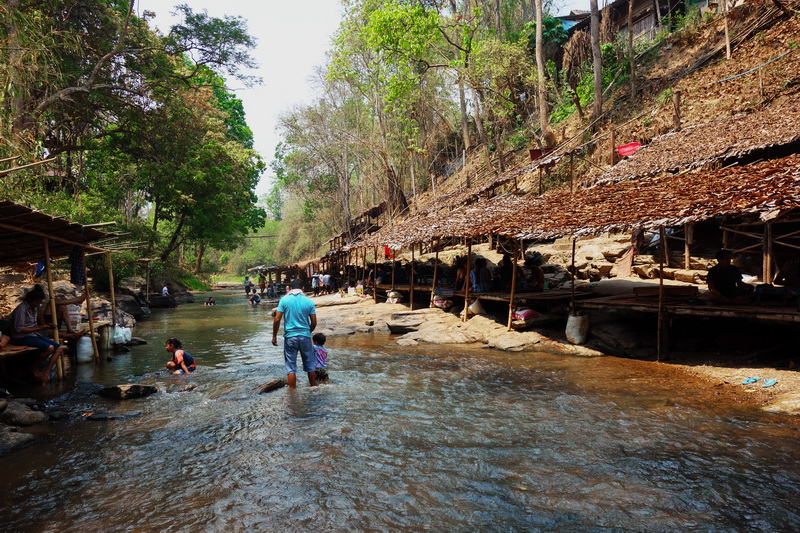 How to get there
In order to go to Mae Wang, you should drive out of Chiang Mai downtown. Then use the Highway Chiang Mai-Hod, continuing straight for about 20 kilometres until you see the sign written the direction to 'Mae Wang'. Remember, drive carefully all the time because you have to go throught the community area. Then, after reaching San Pa Thong County Junction, you turn right to the ascent of the mountain. After that, keep going for another 10 kilomet