Art in Paradise is the world's largest 3D art museum
Art in Paradise a place to make fun memories with friends and family
Chiang Mai Art in Paradise will become one of the interesting things to go and enjoy in Chiang Mai among Thai and foreign traveler, principally Thai people who love to take the pictures could get new experience in photography. The art in Paradise was created successfully at it first time in Pataya Province by Mr. Jang Kyu Suk in Patt and other 14 artists from Korean and later then second branch was opened officially on September 12 2013 in Chiang Mai and it became very successfully. At least once in your life for Thai people will take their family to visit this place.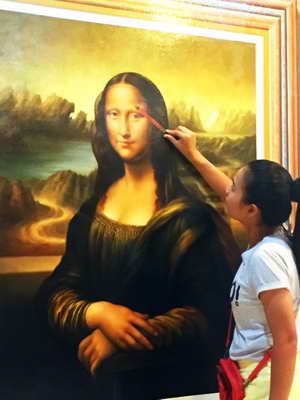 An illusion is a sensory perception that causes a distorted or altered impression. Since illusion is not the opposite of reality, the effect of illusion one experiences is neither true nor false.
The illusion of depth in paintings and installation art are presented on two dimensional surfaces by combining a variety of art elements, special techniques and professional skills. This transforms ordinary artworks into extraordinary three-dimensional interactive environments.
There are eight different zones:
Ocean
Zoo
Dinosaur
Surrealism
Classic art
Lanna
Thai
Egyptian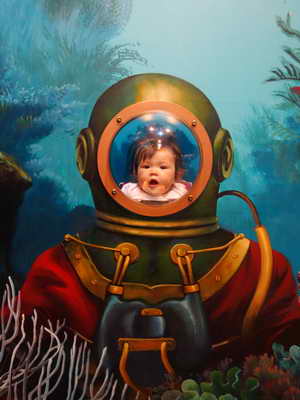 Art in Paradise Chiang Mai is a great place to have an hour or two of fun, good for adults as well as kids. If you never enjoy going to an art museum, you'll enjoy this as you can pose and take tons of pictures and show it off to your friend back home. Make sure you have enough batteries and memory card if you love taking photos and have fun with the museum.
If you love taking photos and enjoy with all crazy acts that you can make from the illusion art and 3D paintings you definitely need to come here. Recommend!
How to get there

Address: Art in Paradise Chiang Mai 199/9 Changklan Rd. Changklan, Muang Chiang Mai Thailand 50200
Art in Paradise Chiang Mai is open : daily 09.00 – 21.00.
Price : adults is 300 Baht and 200 Baht for children.
Nearby Places:
Kad Luang, meaning "great market" in the Northern Thai dialect, dates back to the time of King Rama V. This market is the centre of wholesale shopping centres including clothes, plastics, flowers, meats. It is also the meeting points of local transportation heading to each district in Chiang Mai.
Chiang Mai is a shoppers paradise, and nothing beats shopping for a bargain more than in in the famous Chiang Mai Night Bazaar. The Night Bazaar, on the east side of the old walled city, is approximately 1km long on Thanon Chang Khlan. The Night Bazaar is open every day of the year regardless of the weather from dusk till around midnight.