Wat Pa Lat 'One of the most peaceful forest monastery'
Chiang Mai is just like many other provinces in Thailand that have got many ancient monasteries. But what you may not see so often are forest monasteries. These monasteries are all located withing the wood or mountain areas, according to the name.  
Forest monasteries are good place to go if you wish to avoid your busy life or practice Dhamma. Greenery environments around them should make your mind peaceful and feel no stress. 
In that case, let's find another forest monastery in Thailand, Wat Pa Lad.
Wat Pa Lat, or Wat Sakithaka, is located within a woodland in Suthep District, Muang County, Chiang Mai. It has been being full with historic stories for more than 500 years. In fact, it used to be an abandoned place before, but soon later it has been maintained and turned into a religious place just for Dhamma practicing.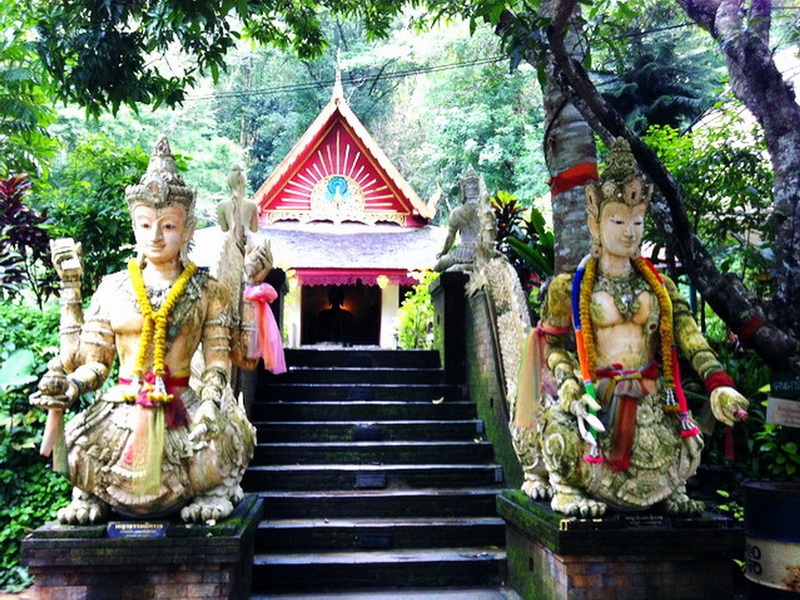 You may wonder how the name 'Pa Lat' came. The point is, the temple was called 'Pa Lert' before, according to some legends. But later, the pronounciation has been changed into 'Pa Lat', a waterfall name, instead.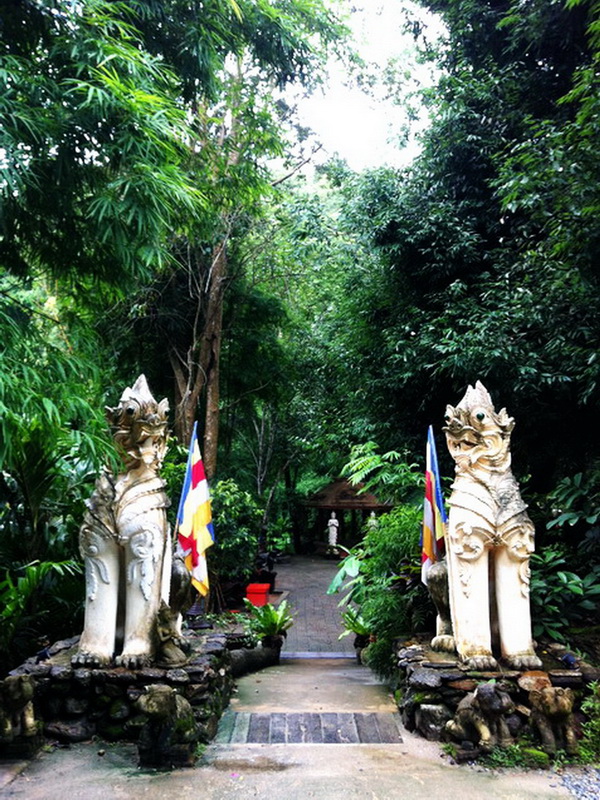 Outstanding appearances of all forest monasteries are old-looking and natural-looking architectures. Same as Wat Pa Lat, there are many interesting landmarks within the area. Let's see some of them.
The Vihara : In the period of Khruba Siwichai, this vihara was built nearby the ascent of Doi Suthep, by Burmese workers who were the students of Khruba Therm and Khruba Sith. Therefore, the sculptures of peacocks are shown in front of the vihara, because they're all the symbol of Burma. Behind the vihara, the sculptures of rabbits, the birth year of Khruba Therm, are displayed.
The Chedi : An artwork from the period of Khruba Siwichai built by the same group of Burmese workers that built the Vihara. Through the Chedi, you will see exactly how Burmese art is. Some people assume that it look quite similar to Wat Mahawan on Ta Pae Road. However, the Chedi of Wat Pa Lat is quite in bad state, because it has been drilled by treasure hunters since the age of world war. You will see the big hole on the Chedi.
The Pond : Some people believe that this is a holy pond. If you take a look at it, you will see that it has been rebuilt for so many times by different groups of ancient people.
The Lord Buddha's Statue Napha : It was once a very gorgeous tower of Lord Buddha's statue. Long time ago, some locals escape the war into Pa Lat Cave. From that point, the Lord Buddha's statue was built, in order that locals would have their chances of paying respect and being saved from all dangers.
Phra Chao Guena Vihara : Located nearby the stream, this vihara now appear as a brick structure only. The principle Lord Buddha's statue is inside and covered with a small pavilion, but you are still able to see the base of the statue. In front of the vihara, there is an old, rugged pond. It is believed that the pond used to be full of flowing water before, in some ancient period.
For those who are interested in Dhamma practicing, the temple has arranged some schedules for every Buddhists. If you feel sad, nervous or worry about something very much, doing meditation under the shades of the trees may cure you. 
Bring your friends, your family and anyone you love with you!
How to get there
In order to reach Wat Pa Lat in Suthep District, first, you need to start your trip from Khruba Siwichai Monument. Keep going along the ascent of Doi Suthep for about 4 kilometres and another 1 kilometre from the entrance of Montatarn Waterfall. Then you should find the temple on your left side. 
Feel the leisure atmosphere as much as you want to. In front of the temple, Buddha Chayanti Minor Vihara is located. The vihara was built by the cooperation between Wat Pa Lat and a national park, in order to be used as resting spot for tourists. Therefore, if you suddenly get exhausted from your long trip, just stop your car and sit relaxedly at the vihara.
Nearby Places
Perhaps the most famous and important temple in Chiang Mai every visitor must pay a visit. On top of Doi Suthep Hill, at 3,520 feet above sea level, finds the revered golden Phra That (chedi) of Wat Phra That Doi Suthep rises against the sunlight. The temple was built in 1383 to enshrine Buddha's relics.
Bhubing Palace is the royal winter residence in Chiang Mai where the Royal family stays during seasonal visits to the people in the northern part of Thailand. The palace is also the royal guesthouse for prominent state visitors from abroad. In the past Their Majesties welcomed or granted royal audience to State visitors only in the capital of Bangkok. Bhubing Palace was built in 1961. The construction started initially with only the royal resident building and the guesthouse. The other buildings were additionally built on later dates.
Doi Pui, at 1,685metres above sea level, is the highest peak in the Doi Suthep-Pui National Park. It is famous for its beautiful waterfalls which are easily reached from the main road. But one of the hottest attractions for Doi Pui must be Hmong Tribal Village situated less than five kilometres from the famous Wat Phra That Doi Suthep. A visit to this village is an eye-opener into the tribal villagers' private life.
The zoo is perhaps not on everyone's must-visit list when travelling to Chiang Mai but it's an interesting alternative if you had your fill with cultural and historical sites.