Tham Chiang Dao 'See this all-natural stalactite cave while paying respect to historic Lord Buddha statues '
For those who've never seen any stalactite cave before, there is the one you should go to, 'Tham Chiang Dao'. This is a very interesting cave, due to its stunning appearance, largeness and history. Also, it is one of the most valuable tourist attractions.
Tham Chiang Dao is located on the hill of Doi Luang Chiang Dao, Chiang Dao County, Chiang Mai Province. The outstanding appearance is that the whole cave is full of natural stalactites. These stalactites have been created in many beautiful shapes. Some of them stay close to each other so much that you are able to turn your flashlight on and see the sparkling light.
Moreover, the atmosphere at Tham Chiang Dao is fresh. You will enjoy your time of walking around and inhaling sweet air. There is a small, cool stream flowing from inside of the cave to the front, before gathering as a pond full of fishes. The Chiang Dao cave is also surrounded with greenery. No pollution. No annoying noise. There is no wonder why tourists, both Thai and foreign, love Tham Chiang Dao so much and travel there quite often.
By walking into the cave, you will notice that Tham Chiang Dao is very long. It's hard to identify how long it is. The first part of the area is a dry cave, looking fabulous with stalactites and Lord Buddha statues for tourists to pay respect to. However, you may get scared of the darkness in there a little bit. Don't worry. Actually, there are lamps installed all over the first part.
But if you want to go the deeper halls, you will need a tour guide for your own safety. Don't go alone. You need to pay only about 100 Baht for each guide tour.
The deeper you go, the more valuable things you see, for instances, stone stairways, stone statues, old Lord Buddha statues etc. Of course, there are still some light for you in there, but you should walk carefully anyway. Don't trip over anything.
There are 3 alternative paths for you to choose, if you want to tour the cave. The first path is Tham Phra Non, total 360 metres length. The second path is Tham Kaew, total 734 metres length. The last one is Tham-Mued, total 735 metres length. Remember that there aren't any electronic devices on the two latest paths, therefore you need to bring a guide with you, as it has been said on the previous paragraph, if you don't wish to walk in the darkness by yourself.
In front of the cave, there is Wat Tham Chiang Dao. It is a small and peaceful temple. After touring inside the cave, you may just come out and walk around the temple. The temple is surrounded with mountains. Don't forget to take = nice photos and see the ubosot.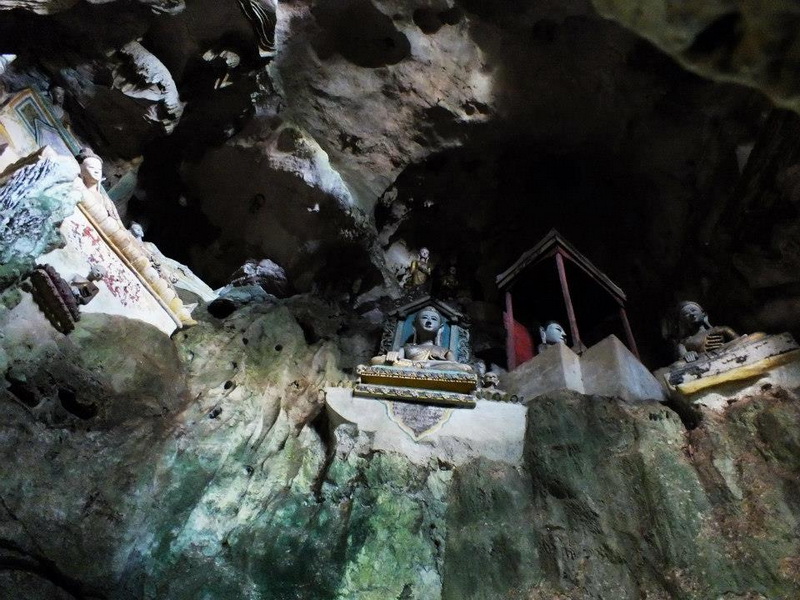 How to get there
In order to get to Tham Chiang Dao on the hill of Doi Luang Chiang Dao, there is two methods.
The first method is to take a personal car. Tham Chiang Dao is about 77 kilometres away from Chiang Mai downtown. You need to drive for about 72 kilometres before reaching Chiang Dao County. Then turn left for 5 kilometres until you see your destination. Don't worry about parking lots. You will get one for sure. The parking lots are quite large. Beside, there are some small restaurants and pavilions within the cave area for you to get some rest. Or if you don't have a personal car, you may get a public vehicle instead, if you need more comfortable, we can provide the private tour for you.
Nearby Places
This limestone hill in the area of Chiang Dao Wildlife Reserve features the height of 2,195 metres from sea level, making it the third tallest peak in Thailand after Doi Inthanon and Doi Pha Hom Pok. The peak is a great spot to soak up spectacular views of a fog sea while the nearby area is home to rare highland flowers, birds, and butterflies.
Visit 1st elephant training school in the valley called Chiang Dao. Enjoy  Chiang Mai elephant tour in nature of the forest and the lovely show from the elephant. Stunning in color of the orchids which blooming all year round.
Doing excercise by going up along the 300-stepped stairway, before paying respect to the Chedi on the top.
A nice country bar. Good place to stop by and relax yourself.
Just travel from Tham Chiang Dao for about 40 minutes, you will find this national park. You will enjoy sleeping in your tent and soaking your body in a hot pond. What a wonderful place to go camping!
Of course, you can't just going somewhere without buying something back. Therefore don't hesitate to stop at Chiang Dao Market for a little shopping. Buy yourself nice costumes, foods or any accessories.