Land Split Pai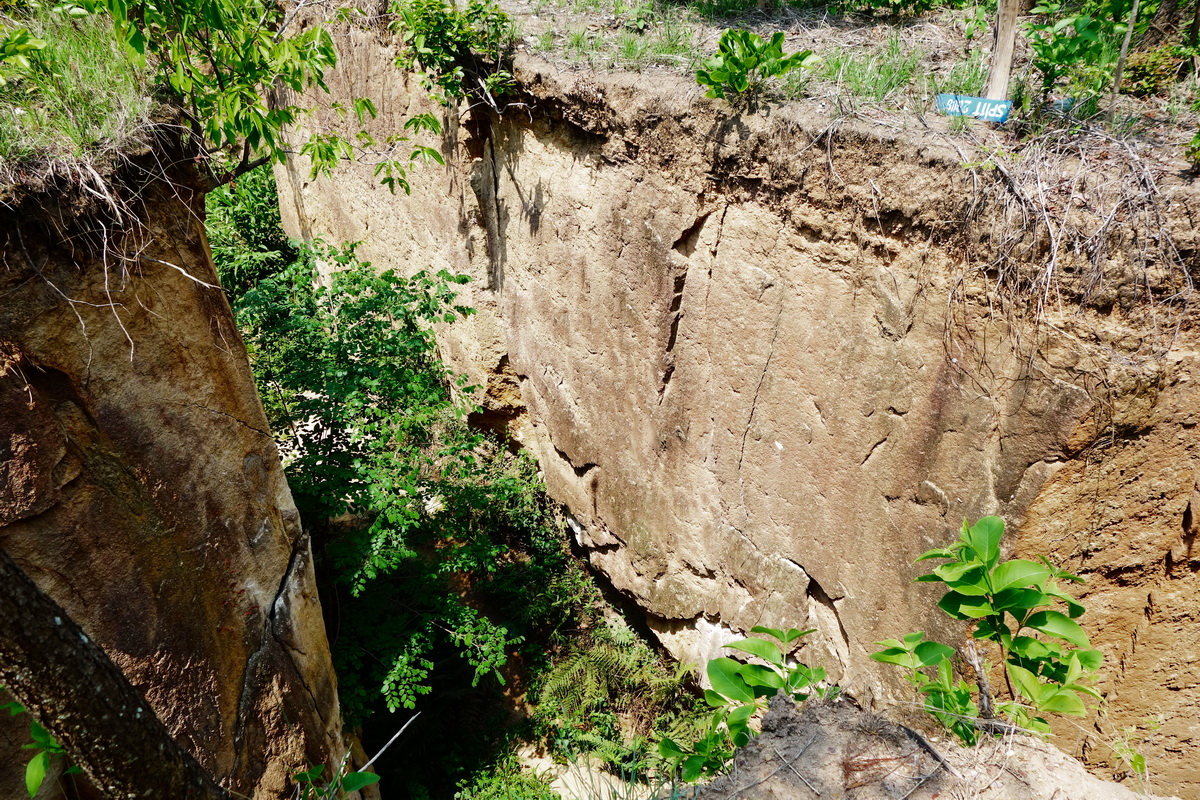 Land Split Pai is a naturally occurring crack in the ground that opened up mysteriously in 2008 and today is a popular tourist destination.
The farmer on whose land the split occurred had a flourishing soybean farm until one day he woke up to a crack on his farm that was 2m wide and 11m deep. The natural phenomenon occurred with no logical explanation. A crack took out the farmers income overnight.
"What the crack? What do I do now!" He might have thought. And the entrepreneur in him came up with the answer : Turned into a tourist attraction, as the farmer decided to open his land up to visitors who can come and visit this unique attraction.
Pretty amazing to see how a farmer woke up to his land split in half like this one morning with no scientific explanation. The split has grown over the years and the farmer turned it into an entrepreneurial opportunity and now offers a spot to chill out in some hammocks, eat fresh food from his land, or walk around to enjoy the views. Definitely worth the visit to this land split outside of Pai.
For me, The split itself is not really that much of an attraction but the people there are the kindest ever. Once you arrive at this farm, you are welcomed by a warm smiling Thai man offering refreshing hibiscus juice, peanuts, banana chips, sweet potatoes, tamarind, roselle juice, wine and jam as he explains the history behind the giant split.
After your meal, you can relax in one of the many hammocks placed around the farm while breathing in some of the fresh rural air.
They don't charge you for anything, but there's a donation box where you can offer a little something.
How to get to Land Split  : The Split is located just a few minutes of the 1095 Highway near the Pombok waterfalls which is located just 3.2 kms away. If you do not have car, you can contact travel agency in Chiang Mai and Pai to arrange the private tour or bodget tour for you.
Address : Tambon Amphoe Pai, Chang Wat, Thung Yao, Mae Hong Son, Thailand, 58130
GPS Coordinates Map : 19.321355, 98.423551
Nearby Places
Wat Nam Hu is a key temple in Pai, and it attracts both devout locals and tourists. Home to the sacred Buddha image, this is a must-visit temple.
The water rushes down a crevice in the gently sloping rock face, creating a shallow swimming pool below. Bring your bathing suit to dip into the cool waters, or picnic on the rocks while taking in some of the sun's rays.