Lampang horse carriage  'Let's have a sightseeing in Lampang wagon'
Everyone who visits Lampamg won't want to miss a chance of sitting in a wagon.
Lampang is the only province in Thailand that provide wagons for service. Tourists love to use them for sightseeing around the town. If you've seen wagons in some movies, you will want to have a good experience like that for once in lifetime. You will feel like you're in old days.
Lampang horse carriage service is under the care of Wagon Association, who gives three different exact prices for the service.
150 Baht for a short sightseeing trip around the town
200 Baht for a long sightseeing trip around the town
300 Baht for a lump-sum payment per hour
You just have to choose the price that suits you most.
However, you can't use wagon service all day. Those wagons depart on schedule time. There are different departure spots. Every spots have different departure times.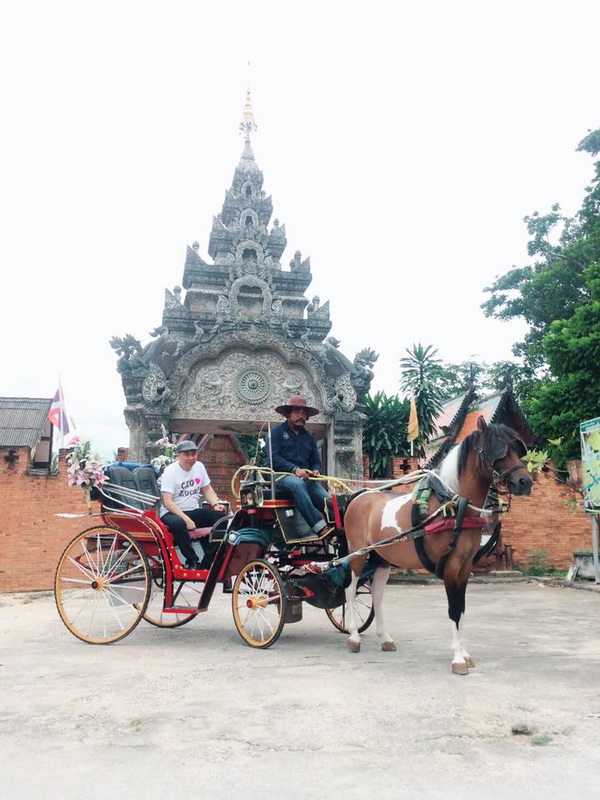 For examples…
If it's the front side of the old town hall, the departure time starts from 6:00 in the morning to 16:00.
At the front side of Thip Chang Hotel, it starts from 6:00-23:00. Therefore, you can have a sightseeing at night and that will be romantic.
Beside of these, you can find some other minor spots too. Just ask villagers around your shelther.
Now that you get a wagon, it's time for you to choose the price and path you want.
As it's been informed, there are three different prices and three different trips.
The first type of trip takes about 20 minutes. You will be taken through Thip Chang Road, where there are old-styled buildings on both sides, and Boonwat Road, an important commercial district.
The second type takes longer time. It's about 40 minutes. The route is similar to the first one, only that it will take you through Wang Kwa Road, Kelang Nakhon Park, Assawin Market.
The last type allows you to have a sightseeing in your own style. You can set up the route as you want and tell the driver. One hour costs 300 Baht.
Attractions in Lampang town, Exam : Ban Sao Nak, Wat Chiang Rai, Rassada Pisek Bridge, Kad Kong Ta, Wat Pongsanuk.
Take your friends, you family, you love ones to Lampang and feel the touch of this relaxing feeling.