San Kamphaeng Hot Springs Let's spend your vacation in this nice and warm water!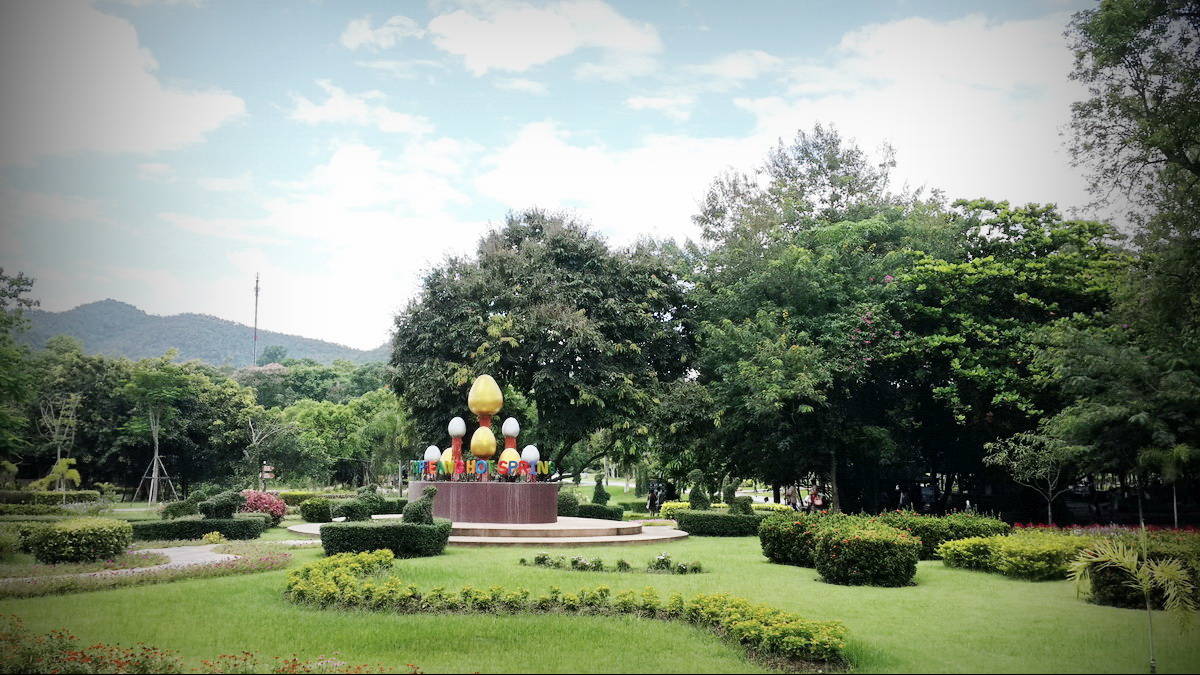 Getting tired of your work? Stucking in the middle of broken-heart condition? Feeling so bored of everyday life? Having nothing to do? Suffering from stress? Just don't worry! Because here is a place that can cure you feeling. Once you arrive 'San Kamphaeng Hot Springs', you will never forget it, or even don't want to leave it. Surely, when you dip yourself into this water, you will feel very comfortable. You mind will be relaxed and you will almost forget all your anxiety.
San Kamphaeng Hot Springs is one of the most popular tourist attraction in Chiang Mai Province.
For a very long time, it has been being very famous, due to its natural beauty, stunning scenery, fresh-looking and colorful plants.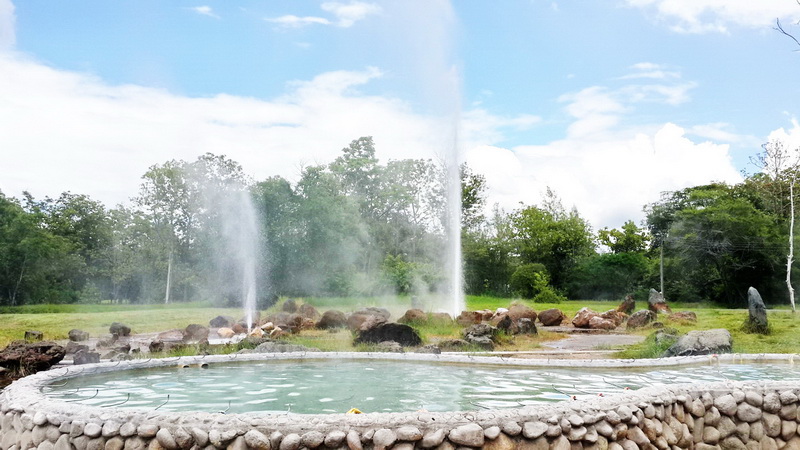 The Sankampang hot springs is on service everyday from 8:00-21:00. The price for admission ticket costs only 200 Baht per person. When you walk in, you will see that the place is really wide. When you enter, you should find a sign that is written 'San Kanphaeng Hot Springs'. The hot springs here are totally natural. They're  105-degree-Celsius hot, boiling. They spout from the underground area all the time and has about 15-metre height, but 20-30 metres when the water splash like a sprinkler. Seriously, you must travel there and see this incredible natural sight by your own eyes. To be honest, it's really gorgeous!
You will hear the water-splash sound all the time, but, however, that's not too noisy. You may walk around the sprinkling water to feel the warmness. However, don't get to close or you skin will turn into red color. There will be some caution sign near the spring, in order to warn tourists not to get to close to the hot spring.
San Kamphaeng Hot Springs consists of two seperated fountains, which provide nice hot water and deliver it to every streams in the place. As soon as you enter the place, you will see that there are streams around. Again, can be sure that these streams are natural hot water. Therefore you can sit on the edge and dip your feet into the water, just to feel comfortable. Or you can even take your whole body down, swimming or just soaking relax in there.
That's not the end of that! There is something more interesting for you! Before you reach the fountains, you will find some booths selling eggs. These eggs are for tourists to boil them in the hot springs. That's right! These eggs are sold in cute-looking round bamboo baskets. All you have to do is purchase some. Then you carry the egg basket to one of the hot springs, carefully dip it into the water and hang the basket to a hook at the stone edge. Keep waiting for about 3-15 minutes, depending on the level you like the egg to be boiled. If you want quite raw eggs, leave the eggs for just about 3 minutes. If you want the yolks to be creamy, then wait for about 5 or 6 minutes. Or if you want your eggs to be totally cooked, then let it be boild for 10-15 minutes.
After that you pull the basket up and eat the eggs. Even you may have already ate too many boiled eggs for the entire life, but believe this, the feeling you gain from hot-spring-boiling eggs is totally different. You sit, relaxing yourself in the middle of this natural tourist attraction. You boil eggs in a strange way. You eat while you look around the beautiful environment. The taste will be extremely delicious! You will regret it if you miss this activity. Therefore don't miss it!
Moreover, if you would like to bring some souvenirs back for your friends or family, there are some shops in the place. You can purchase traditional goods like costumes, bag, or whatever.
More details: 
Mineral water service
San Kamphaeng Hot Springs also offers you special services of swimming, soaking and cleaning yourself in mineral water. If you don't want to waste your travel ticket to Chiang Mai, then don't forget to receive one of these service.
Here are the prices:
Body cleaning by scooping mineral water (20 Baht)
Body cleaning by soaking in mineral water (40 Baht)
Ozone mineral water pond (Adult: 50 Baht , Child: 30 Baht)
Shelter (200 Baht)
Big mineral water pond // 300 Baht
Shelter Service
In case you love the hot springs so much and don't want to leave fast, then just spend the night here! San Kamphaeng Hot Springs have already prepared shelters for you.
Here are the prices:
Shelter price per person = 50 Baht
Bungalow = 1,000-1,200 Baht per night
Tent = 150 Baht per person
For more details and booking: 053-929077 , 053-929099
How to get there:
San Kamphaeng Hot Springs is located in the area of Baan Sahakorn District, Mae On County, only 30 kilometres away from the downtown.
There are alternatives choices for you to go there. If you have a personal car, you may drive through the path 'Chiang Mai-San Kamphaeng-On Luay Village-Hot Springs'. Don't worry, you will never get lost. The signs are clear and easy to read.
Or if you don't have a personal car, then take a bus from Chang-Puak Transport Station to San Kamphaeng. Then just rent a two-line-seat truck for about 200 Baht to get to the hot springs or for more comfortable, we can provide the private tour package for you.