Mae Ya Waterfall 'Cool and glorious watery heaven'
Wanna see the most beautiful waterfalls of Thailand for once in lifetime, but don't know where to go? Then here is a suggestion for you, 'Mae Ya Waterfall'! Just only one-time visit, you will never want to leave it.
Mae Ya Waterfall is a waterfall in Chiang Mai Province. It is located within the area of Doi Inthanon National Park. It is known as one of the most beautiful waterfalls in Thailand and also the biggest waterfalls in Doi Inthanon National Park. This is something you don't want to miss if you're about to visit Doi Inthanon.
In order to reach the waterfall, you need to follow the sign written 'Mae Ya Waterfall' for about 14 kilometres and pass some village communities, then you will see a zigzag and steep path, due to the appearance of the mountain. The path may be quite rough and tough for you, so that you can possibly feel like this is a super long long way. But it's not that hard, actually. Just keep  going until you see the white water flowing from the top of the cliff. That's your destination. Be patient and you will be able to touch the cool current soon. Mae Ya Waterfall is so enormous that tourists can see in from a great distance.
This may not be the most popular waterfall, because there is no other tourist attractions along the entrance and public vehicles don't access the area also. However, this still be a nice place to go if you need a vacation or leisure time with someone you love. You will definitely be happy with watery environment all around you.
You need to see the gorgeous sight with your own eyes, the 30-storied rock cliff covered with flowing water for more than 260 metres all the time, looking just like some thin and white curtain. Especially in rainy season, the water will spread for about 100 metres before flowing to the below basin. This is unbelievable! The most fabulous part is that tourists are able to walk into some spot of the cliff, in order to avoid the water sprinkle and to watch the beautiful foggy water from different angles.
Moreoever, you can prepare your own swimming suit, wear it and soak yourself in the water! This should make your mind and body fresh, relaxing your stress. Anyway, you need to be extra careful if you want to swim or do some other related activities. You should play in the water only when there is someone looking after you, probably an authority or a tour guide. No matter which waterfall you go to, remember that sometimes current can be harsh and that will cause you great danger.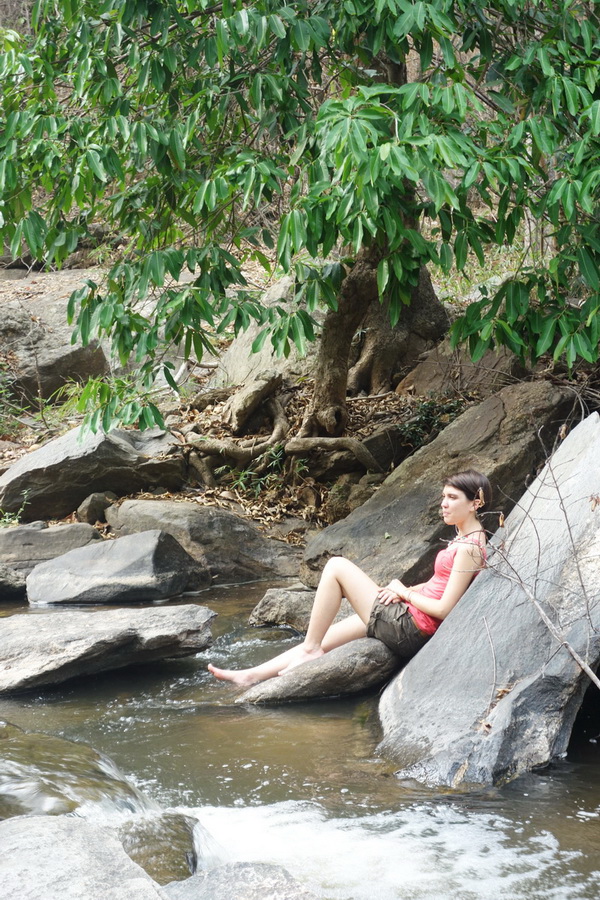 For Mae Ya Waterfall, you probably don't want to visit it during drought season, because the water quantity will be decreased. But if you're not serious about swimming or playing with water, you may love to travel in drought season, because the water will be specially clear and clean even there isn't much of it. You can still take nice photos with your friends and family.
That's not the end of that! Mae Ya Waterfall is surrounded with a greenery forest, which you can go in and fill your lungs with sweet air. You can also set up your tent within the waterfall area for your camping, of course. Just spend the night as long as you want to, but don't forget to as for permission from the park authorities first.
Mae Ya Waterfall is also a convenient tourist attraction. There are parking lots, restaurants and restrooms for you. Go make yourself at home, but keep the whole area clean and tidy all the time.
The ticket price: For a Thai adult = 50 Baht , For a Thai child = 20 Baht , For a foreign adult = 200 Baht , For a foreign child = 100 Baht 
For more details, you may contact Office of National Park or call 053-248604, 053-248607, 053-248605 directly.
How to get there
Mae Ya Waterfall is located in Chom Thong District, Chiang Mai Province.  
In order to get there, you have to head south, going along the path No.108(Chiang Mai-Hod) for about 60 kilometres. After that, you will find a crossroad, which is exactly the same one as the ascent of Doi Inthanon. Just turn right and enter Highway No.1009, continuing straight for about 1 kilometre, then turn left for another 14 kilometres. Finally, you have to walk on your feet for the very last 200 metres before you see the waterfall. 
You need a personal car only, because the waterfall are inaccessible for public vehicles.
Nearby Places
You will enjoy observing the life of the prehistory evergreen forest. This is a moment that many people don't have their opportunities to see. Get yourself to this highest mountain of Thailand. Notice many rare kinds of orchids with your own eyes. Pay respect to the relics of Inthawichayanon, who was the 7th ruler of Chiang Mai and Lanna. All of these are really really valuable. You may not have another time to see them if you miss them. Therefore, go! Don't miss them!
Kiew Mae Pan is one of the most fertile natural treasure and scenic trail in Thailand, the invigorating mountain and fresh air are waiting to welcome you at Inthanon National Park. Getting truly experience by walking 3 kilometers along Kew Mae Pan Nature Trail through the beautiful green forest, passing giant Rhododendrons, waterfalls and streams which leads to a cliff where you can enjoy breathtaking mountain views.
This research center is surrounded by Inthanon Mountain ranges, 16 kilometers away from the main road. As a result, personal vehicles are recommended, or tourists can take a local taxi bus from the trailhead as well. The center sets itself on the area of 450 rais, consist of a variety of winter fruits, such as chinese pears, plums, peaches, nectarines, and strawberries. Visitors can pick them freshly from the tree for tasting. Moreover, in winter, especially in the mid of January to February, the hill will be covered with a blanket of pink Wild Himalayan Cherry flowers (Hill Sakura), giving a splendid picturesque sight to the visitors. Furthermore, those bird watchers shouldn't miss this place, since Inthanon mountain is home to various species of birds.
Wat Phradhatu Sri Chom Tong Voravihara is a Royal Historic Treasure, and contains the Holy Dakkhinamoli Buddha Relic; legend has it that the Lord Buddha came to teach the people on the hill near the monastery. The Meditation Center was founded over ten years ago, and is currently headed by Phra Rajapromajaan (Ajaan Tong Sirimangalo), founder of Wat Rampoeng Tapotaram.